TURIN CASELLE AIRPORT (TRN) INFORMATION
Origin
Airline
Flight no.
Scheduled
Est./Actual
Status
No flight arrivals were found at Turin Caselle Airport.
Destination
Airline
Flight no.
Scheduled
Est./Actual
Status
No flight departures were found at Turin Caselle Airport.
Car Hire at Turin Caselle Airport
UNBEATABLE VALUE CAR RENTAL
Free Amendments | Free Cancellations | No Card Fees



Turin Airport - All Information on Turin Airport (TRN) Turin Caselle Airport
Strada Aeroporto, 12, 10072 Caselle Torinese TO, Italy
phone +39 011 567 6361
phone+39 011 5676478 (Lost + Found)
Facts and History about Turin Caselle Airport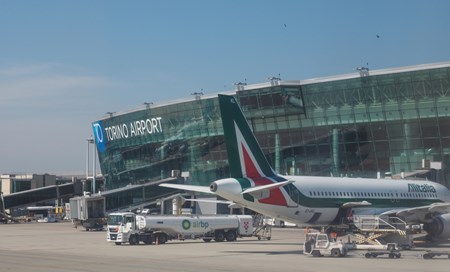 Turin Airport (TRN) also known as Turin Caselle Airport located just 16 km from the downtown city center of Turin, Italy, offers a convenient gateway for travelers to explore this vibrant region. Steeped in history, the airport has served domestic and international flights since its opening. With state-of-the-art facilities and a wide range of services, Turin Airport strives to provide a seamless travel experience for all passengers.
Passengers flying through Turin Airport can expect a smooth and efficient check-in process, ensuring a hassle-free start to their journey. The airport's security measures are rigorous, ensuring the safety and well-being of all travelers. Additionally, Turin Airport boasts many amenities to enhance the overall travel experience. From duty-free shopping opportunities to diverse dining options, there is something to cater to every passenger's needs and preferences.
One of the unique features of Turin Airport is its commitment to sustainability. The airport has received recognition and awards for reducing its environmental impact. It has implemented various initiatives, such as energy-efficient lighting, waste management programs, and the promotion of public transportation options for passengers traveling to and from the airport.
Transfer Services at Turin Airport
The Turin Airport offers a variety of ground transportation options. About 16 kilometers separate the airport from Turin's city.
Rental Car Services at Turin Airport
Travelers have a variety of alternatives when it comes to automobile rental services at Turin Airport. Prominent rental companies have desks easily accessible in the airport terminal's arrivals section. These rental firms provide a range of automobiles, from luxury cars to tiny cars, to meet diverse demands.
Renting an automobile is a simple procedure. Travelers have two options for booking their car: online or at the rental counter when they arrive. To get the greatest bargain, comparing costs offered by several providers is important.
See and compare all rental car companies at Turin Airport.
Taxi Services at Turin Airport
Passengers may be confident they are paying a fair fee for their taxi journey using metered pricing. The meter calculates the distance and time traveled. Additionally, there is an additional fee for late-night transportation and bags. From the airport, a taxi to the city center usually costs between €28 and €31 by day and €31 and €34 at night. See more information about taxis at Turin Airport.
Train Services at Turin Airport
Currently, trains departing straight from Turin Airport are required. But the adjacent village of Caselle Torinese has a rail station about 1.5 kilometers from the airport. More information about train services near Turin Airport.
A shuttle bus service runs from Turin Airport to the Caselle Torinese railway station. The trip takes around ten minutes, and the bus leaves every thirty minutes. You may buy tickets right on the bus.
The GTT railway line, which links to the Piedmont area and the city core of Turin, serves the Caselle Torinese train station. Every 30 minutes, trains go into Turin's city center; the trip takes around 20 minutes.
Bus Services at Turin Airport
This airport is served by Flibco and Arriva Italia. Here are some more specifics on Turin Airport's bus services. Arriva Italia and Flibco websites provide schedules and prices for their bus routes. You may get route maps on the websites of Arriva Italia and Flibco bus services.
More information about buses to and from Turin Airport.
Hotel Shuttle Services at Turin Airport
Suppose you have a reservation for lodging close to Turin Airport. In that case, several hotels provide free shuttle services to and from the airport. Travelers can reach their destination without making transportation plans thanks to these hotel shuttles, which provide a practical and hassle-free transfer alternative.
Each hotel shuttle service's operation hours, frequency, and pickup locations may differ. Please visit our hotels page to find out more about your alternatives. It is advised to inquire directly with the hotel or visit their website for information on shuttle availability and timings.
Visit our hotel page for further details.
Rideshare Services at Turin Airport
At Turin Airport, ridesharing services like Uber and Lyft are available to travelers, offering a cost-effective and practical mode of transportation. Easily request a trip using the relevant smartphone app for passengers.
Demand and other variables, like distance, may affect prices. When compared to other modes of transportation, the range is usually competitive. For vacationers, ridesharing services are very practical.
Parking Services at Turin Airport
The on-site parking facilities are available to those who would rather drive to Turin Airport. The airport provides short- and long-term parking alternatives for varying client demands. The cost of parking services varies based on the length of stay and the parking location selected.
See more information about short and long term parking at Turin Airport.
Other Services at Turin Airport
As you navigate Turin Airport, you'll discover many amenities and services to enhance your travel experience. When you enter the terminal, you'll be greeted by friendly staff ready to assist with any inquiries or concerns.
For those who require extra assistance, Turin Airport offers special services for disabled passengers. Wheelchair accessibility, dedicated parking spaces, and trained staff are just some of the accommodations provided to ensure everyone can move through the airport comfortably.
Stay connected during your time at Turin Airport with their convenient Wi-Fi connectivity. Whether you need to catch up on emails or browse the web, staying connected has never been easier.
Once it's time to collect your luggage, head to the efficient baggage claim section, where helpful staff will guide you in retrieving your belongings swiftly and securely.
Need information? Look no further than one of several information desks located throughout the airport. Knowledgeable attendants are available to guide flights, transportation options, and general airport queries.
Please note that smoking is prohibited within all indoor areas at Turin Airport. Designated smoking areas are available outside for those wishing to indulge before departure.
If you misplace an item during your travels, don't fret! Turin Airport has a Lost and Found section where dedicated personnel work diligently to reunite passengers with lost belongings.
Cleanliness is a priority at Turin Airport, and restroom facilities can be found conveniently throughout the terminal building. Rest assured, these facilities are regularly maintained for optimal cleanliness and hygiene standards.
Nursing mothers will appreciate the nursing mothers' station with comfortable seating areas and private spaces for breastfeeding or pumping milk in peace. This thoughtful amenity ensures that even our tiniest travelers have a comfortable experience while passing through this bustling travel hub.
If you need cash, ATMs are conveniently located throughout the terminal. Withdraw local currency or access your funds with ease.
Disabled Passengers at Turin Airport
Upon arrival, disabled passengers can request special assistance by contacting the airport's dedicated service desk. Trained staff members are available to support throughout the journey, from check-in to boarding and disembarkation.
The airport is equipped with accessible restrooms located throughout the terminal buildings. These restrooms have features such as grab rails and spacious layouts to accommodate wheelchair users or those with limited mobility.
Tactile paving systems are installed within the terminal premises for visually impaired travelers. These raised surfaces help guide individuals safely through different airport areas, enhancing their navigation experience.
To facilitate easy access for disabled passengers, designated parking spaces are available near the terminal entrance. Ramps and elevators have been strategically placed around the airport to ensure barrier-free movement within the facility.
Wi-Fi at Turin Airport
Turin Airport provides free Wi-Fi access throughout its terminals, whether you need to catch up on work emails, stay in touch with loved ones, or browse the internet while waiting for your flight. With a few simple steps, you can easily connect your devices and enjoy a reliable internet connection at the airport.
The Wi-Fi network at Turin Airport ensures seamless browsing and downloading speeds, allowing you to stream videos, check social media updates, or even play online games without interruptions. This makes it convenient for leisure and business travelers who rely heavily on staying connected.
To access the Wi-Fi service, you only need to select "TurinAirport-FreeWiFi" from the available networks list on your device. Once connected, open your browser, and follow the airport's Wi-Fi portal instructions to log in securely and start enjoying fast internet access.
Baggage Claim at Turin Airport
Baggage claim is essential to any airport experience, and Turin Airport does not disappoint. Upon arrival at the airport, passengers can easily locate the baggage claim section, which is conveniently situated near the arrival area.
The baggage claim section at Turin Airport is well-organized and efficiently managed to ensure a smooth process for travelers. The area is spacious and equipped with modern technology to track and retrieve luggage quickly. Passengers can expect their bags to be delivered promptly after disembarking from the aircraft.
Turin Airport provides clear signage throughout the terminal to make the process even more convenient, directing passengers to the appropriate carousel for their flight. This minimizes confusion and ensures that everyone can easily find their belongings.
Information Desk at Turin Airport
At Turin Airport, the information desk services are designed to provide passengers with all the necessary assistance. Located strategically throughout the airport, these desks are staffed by friendly and knowledgeable personnel ready to answer any questions or concerns.
Need help finding your gate? The information desk can point you in the right direction. Not sure about baggage regulations? They will gladly clarify that for you. Want to know more about transportation options from the airport? Just ask!
Whether it's flight schedules, terminal maps, or general inquiries, the information desk ensures a smooth and stress-free travel experience. With their expertise and dedication to customer service, you can trust that your needs will be met promptly and efficiently.
Smoking at Turin Airport
Smoking restrictions at Turin Airport are in place to ensure the comfort and safety of all passengers. Turin strictly enforces its no-smoking policy as a responsible airport throughout the terminal building. Smoking is prohibited indoors, including lounges, restaurants, and restrooms.
If you're a smoker and need to have a cigarette before your flight or during a layover, don't worry! Turin Airport has designated smoking areas outside the terminal building where you can indulge without breaking the rules. These designated areas are conveniently located near the entrances so smokers can easily access them without walking too far.
It's important to note that smoking outside of these designated areas is not allowed. Violators may be subject to fines or other penalties as per airport regulations. So please respect the rules and smoke only in the specified zones.
Lost and Found Section at Turin Airport
Losing something while traveling can be incredibly stressful and inconvenient. Luckily, Turin Airport has a dedicated Lost and Found section to help passengers retrieve their belongings. Located in the main terminal building, this service is easily accessible to anyone who may have misplaced an item during their journey.
Upon realizing that you have lost something, it's important to report it as soon as possible. The Lost and Found section staff are trained to assist with this process and will do their best to locate your missing item. They keep detailed records of all reported losses and work diligently to reunite passengers with their belongings.
In addition to reporting lost items, the Lost and Found section handles any found items turned in by other passengers or airport staff. Suppose you happen to find something left behind by another traveler. In that case, it's encouraged that you bring it to the attention of the airport authorities so that they can properly handle its return.
It's worth noting that not all items may be eligible for retrieval from the Lost and Found section. Certain restricted or prohibited items may need further investigation before they can be returned. However, rest assured that every effort will be made to ensure a smooth process for reporting lost items and reclaiming them if they are found.
Restrooms at Turin Airport
Restrooms at Turin Airport are clean, well-maintained, and easily accessible to passengers. Finding a restroom won't be an issue whether you're departing or arriving at the airport. The restrooms are conveniently located throughout the terminal building.
Upon entering the restrooms, you'll notice they are spacious and have modern facilities. They are regularly cleaned to ensure a hygienic environment for travelers. The sinks have automatic faucets and soap dispensers for convenience.
For those who require special assistance, there are also accessible restrooms available. These restrooms cater to the needs of disabled passengers and offer additional features such as grab bars and larger spaces for wheelchair maneuverability.
The availability of clean and well-equipped restrooms is essential for any traveler's comfort and convenience. Traveler understands this importance and strives to provide top-notch facilities.
Nursing Mothers Station at Turin Airport
One of the many thoughtful amenities provided at Turin Airport is the nursing mothers' station. This dedicated area is a comfortable and private space for breastfeeding or pumping milk, ensuring that mothers can easily tend to their baby's needs.
ATMs at Turin Airport
Turin Airport offers ATM services for passengers needing quick and easy access to money. With several machines throughout the airport terminal, you won't have to worry about running out won't during your journey.
These ATMs are available 24/7, ensuring you can withdraw money whenever necessary – whether early in the morning or late at night. Plus, they accept major credit cards, debit cards, and international cards, making it convenient for both domestic and international travelers.
Currency Exchange at Turin Airport
Located in strategic areas throughout the airport, these currency exchange counters provide a hassle-free way for passengers to convert their money. Whether you need Euros or any other major currency, you can rest assured that these services will cater to your needs.
The staff at the currency exchange counters are knowledgeable and efficient, ensuring that transactions are completed quickly and accurately. They offer competitive rates and may even have special offers or discounts for certain currencies.
It's worth noting that while some places in Italy may accept credit cards or other forms of payment, having cash on hand is always useful for smaller establishments or unexpected situations. Therefore, taking advantage of the currency exchange services at Turin Airport can save you time and give you peace of mind during your trip.
Food and Beverages at Turin Airport
Food and beverage options at Turin Airport are plentiful, ensuring that passengers have a wide variety of choices to satisfy their hunger and thirst. Whether you're in the mood for a quick snack or a meal, there's something for everyone.
For a quick bite on the go, several grab-and-go options are available. From fresh sandwiches and salads to pastries and snacks, these outlets offer convenient and tasty options while waiting for your flight.
If you have more time to spare before boarding, Turin Airport also boasts a range of sit-down restaurants where you can enjoy a leisurely meal. Whether you prefer Italian cuisine or international flavors, there is no shortage of culinary delights to tantalize your taste buds.
Shopping at Turin Airport
Shopping options at Turin Airport offer a delightful experience for travelers looking to indulge in some retail therapy before or after their flights. The airport features a variety of shops that cater to different tastes and preferences, ensuring there is something for everyone.
From luxury brands to local boutiques, the shopping area at Turin Airport provides a diverse range of options. Passengers can explore designer fashion stores offering the latest clothing, accessories, and footwear trends. Additionally, there are duty-free shops where international travelers can find various tax-free goods such as perfumes, cosmetics, alcohol, and tobacco.
For those seeking unique souvenirs or gifts for loved ones back home, specialty stores showcase local craftsmanship and traditional Italian products. These include artisanal food items like chocolates, wines, olive oils, and pasta – perfect for bringing a taste of Italy.
Furthermore, technology enthusiasts will find electronic stores offering gadgets and devices from renowned brands. Turin Airport has covered whether you're looking for the latest smartphone portable speakers to enhance your travel experience.
Pet Relief at Turin Airport
Traveling with pets can be challenging, especially when it comes to finding a suitable place for them to relieve themselves. Thankfully, Turin Airport provides pet relief services to ensure your furry friend is comfortable throughout the journey.
Located in designated areas inside and outside the airport terminal, these pet relief stations have all the necessary amenities for your pet's needs. They are easily accessible and conveniently placed, allowing you to tend to your pet's needs without hassle.
These spaces provide a clean and hygienic environment for your pets while maintaining cleanliness within the airport premises.
If you prefer taking your beloved companion outside, outdoor pet relief areas are available near the parking facilities. These fenced-off sections offer ample space for your pets to stretch their legs and take care of their business before or after a long flight.
Ticketing Services at Turin Airport
The ticketing services offered at Turin Airport also include online check-in options. This convenient feature allows passengers to avoid long queues and print their boarding passes from the comfort of their own home or office before arriving at the airport.
Automated kiosks are conveniently located throughout the terminal for those who prefer self-service options. These user-friendly machines allow passengers to check in for their flights and select their seats with just a few taps on the screen.
In addition to traditional paper tickets, electronic tickets (e-tickets) are widely accepted at Turin Airport. You can easily store your flight details on your mobile device or email confirmation without worrying about misplacing physical documents.
About Turin, Italy
Turin, Italy, is a city that exudes charm and captivates visitors with its rich cultural heritage and diverse attractions. Known as the birthplace of Italian cinema and the automobile industry, Turin offers a unique blend of history, art, and innovation.
Cultural enthusiasts will be delighted by the abundance of museums and landmarks that grace the city. The iconic Mole Antonelliana, decorated with its distinctive spire, houses the National Museum of Cinema, showcasing the history and evolution of film. The Royal Palace of Turin, a UNESCO World Heritage site, is a testament to the city's royal past and boasts opulent interiors and sprawling gardens.
Nature lovers will find solace in Turin's stunning parks and gardens. The Parco del Valentino is a picturesque retreat along the Po River, perfect for leisurely strolls or picnicking. Immerse yourself in the beauty of nature at the Parco della Collina Torinese, offering panoramic views of the city.
Turin is also renowned for its gastronomic delights. Visitors can savor the city's famous chocolate, indulge in local delicacies such as agnolotti pasta and bagna cauda, and sample exquisite wines from the neighboring Piedmont region.
Turin hosts various special events and festivals throughout the year that showcase its vibrant culture. The Turin International Book Fair, held annually, attracts literary enthusiasts worldwide. The Turin Jazz Festival and the Turin Film Festival further contribute to the city's artistic ambiance.
Transportation options within Turin make it easy for visitors to navigate the city. The efficient public transportation system includes buses and trams, providing convenient access to various attractions. Additionally, bike-sharing services and well-maintained pedestrian paths offer alternative ways to explore this charming Italian city.
Weather in Turin, Italy
With its picturesque location in the heart of the Italian Alps, Turin offers a diverse and captivating climate throughout the year. Visitors to Turin can expect various weather conditions that beautifully mirror the changing seasons.
In summer, Turin experiences warm and pleasant temperatures, with average highs hovering around 26°C (79°F). This makes it an ideal time for outdoor activities like hiking, cycling, or exploring the enchanting city center on foot. The city comes alive with vibrant festivals and events, immersing visitors in the local culture.
The temperature gradually cools down as autumn arrives, creating a mild and comfortable atmosphere. With average temperatures ranging from 10°C to 20°C (50°F to 68°F), the fall showcases the city's stunning natural landscapes adorned in warm hues. It's the perfect time to indulge in gastronomic delights, such as truffles and renowned Piedmont wines.
Winter brings a touch of snow and a magical ambiance to Turin. Although temperatures can drop to around -1°C (30°F), the city remains charming with its historic architecture enhanced by the winter wonderland. Winter sports enthusiasts will find solace in the nearby ski resorts. Others can enjoy shopping in the famous Via Roma or savoring a cup of hot chocolate in one of the cozy cafes.
Come spring, Turin blossoms with colors and renewed energy. Temperatures begin to rise, ranging from 8°C to 18°C (46°F to 64°F), enticing visitors to explore the beautiful parks and gardens. The mild climate during this season allows for leisurely walks along the Po River or visits to the iconic Royal Palace.
Important Contact Details in Turin, Italy
In an unlikely emergency, it's crucial to be well-informed about local contact details. For medical emergencies, the main hospital in Turin is Ospedale Molinette, which can be reached at +39 011 633 2220. Casa di Cura Fornaca Clinic is another reliable medical facility and can be contacted at +39 011.5574.355
For urgent police assistance, visitors can contact the Carabinieri by dialing 112 or the Polizia di Stato at 113. These emergency services are available 24/7 to provide immediate assistance and ensure the safety and well-being of residents and tourists alike.
Visitors can contact their respective embassies or consulates in case of any consular or embassy-related matters. The United States Embassy in Italy is in Rome, reachable at +39 06 4674 1. The British Embassy in Rome can be contacted at +39 06 4220 0001.
Remember, while Turin embraces visitors with warmth and hospitality, it's always prudent to be prepared and aware of the essential contact details that guarantee a safe and enjoyable stay in this captivating city.
Turin Airport Contacts
Address: Strada Aeroporto, 12, 10072 Caselle Torinese TO, Italy
General Phone: +39 011 567 6361
Lost and Found Phone: +39 011 567 6361
Information Desk Phone: +39 011 567 6361
Official Website: https://www.aeroportoditorino.it/en
Local Information
Drive on: Right
Electricity: 230V/50Hz
Plug: C, F, L
Currency: Euro, €
Wi-Fi at Airport: Free Wi-Fi is available at Turin Airport
Services at Turin Caselle Airport
Useful Information about Turin Caselle Airport